CCaLC2 released


New second-generation CCaLC2 for Windows released and available for free now.
Click here to download

CCaLC for Android


CCaLC LITE for Android, a simplified version of the CCaLC carbon footprinting tool, has been released - Click here for details and to download

Update


New version of CCaLC tools released for the PVC and bio-based sectors.
Click here to download

Award winning CCaLC


CCaLC wins the GSK Innovation Award - Read more


Award winning CCaLC


CCaLC wins a Chemistry Innovation Award - Read more


Award winning CCaLC


CCaLC wins IChemE top prize for 'Outstanding Achievement in Chemical and Process Engineering' - Read more
SECOND AWARD FOR CCaLC
The CCaLC project won an Award for Most Successful Collaboration, awarded by Chemistry Innovation at the Annual Stakeholder Event held in Birmingham on 2-3 June 2011.
Professor Adisa Azapagic accepted the Award on behalf of the CCaLC team from Dr Graeme Armstrong, Chair of Chemistry Innovation and Head of R&D at AkzoNobel. Dr Armstrong praised CCaLC for its contribution to sustainability and for providing a useful tool for the Chemical Industry to estimate and manage carbon emissions along supply chains.
For more information on Chemistry Innovation and the Stakeholder Event click here.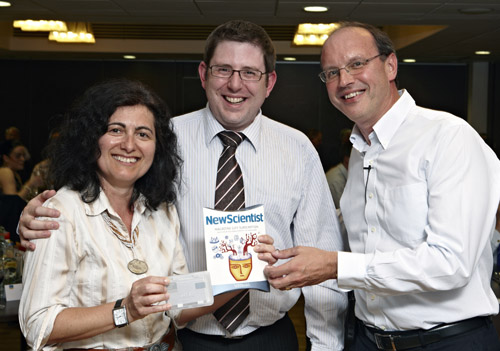 From left: Adisa Azapagic, Mike Pitts and Graeme Armstrong